14 april is his day!
wish him happy birthday .. soh zai.. hoho..
ytd nite.. b4 12am. his 3 frens give him a big surprise. reli BIG .
here is the story.
ytd nite while my didi was on9..ing ..
tiba-tiba, he heard a sound of 1 ppl panjat our house's pagar.
he tot is a thief..
then he open the window to have a look.
yuan lai is his fren, Derek trying to panjat our pagar n he did. (geng!)
then my didi open the door for the 2 gurls out there.(cherine n sharmayne)
then 3 of them hold the cake n sing him a birthday song loudly like nobody business.. haha.. (dat time i was in the room)
then they chat chat chat.. n take take take .. (pic i mean. lol)
they give my bro a MU jersey as a present. derek said he oni realised dat they buy wrong after bought it..
coz my didi support ARSENAL de.. but got support MU as well juz bcoz of rooney n duno who .. haha.
then they balik around 12.40pm coz they have class 2moro morning.
my didi said its a very BIG surprise for him.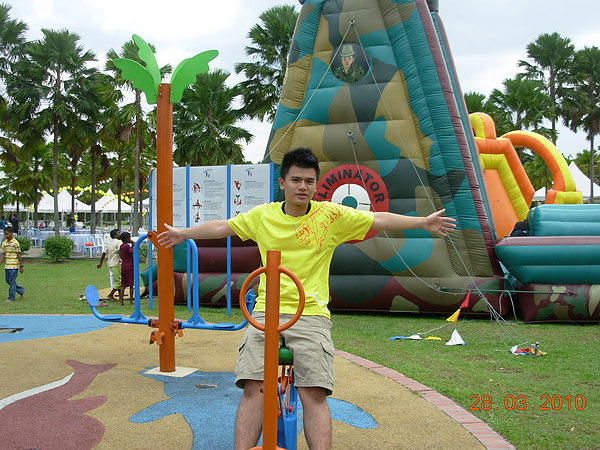 haha.. soh zai is playing.. (he duno i upload his pic here. so shhh.. lolxx.)
later go out wif mimi n didi .. maybe watch movie.
miss the BEAUTY ON DUTY .. wanna buy original or pirated DVD to watch it agn.. haha..
reli very funny!! for those who haven watch it.. go watch it now.. haha..
~tata~
-xian-